Welcome To Our Steelpan Shop
Our instrument makers use both traditional and the most modern tuning equipment to produce the finest range of instruments the world can ever hear. With this knowledge and the ingenuity of our tuners we offer a wide range of steel pans, expertly tuned and at the most affordable prices.
Please view our product range below and add items to your basket to purchase your steel pans now, or contact us to further discuss your steel pan requirements.
For stands, cases and mallets don't forget to check out our Accessory Shop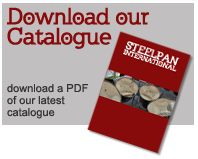 Contact Us
Email:
enquiry@steelpaninternational.com

Phone:
+44(0)2071 939113